Written and photographed by Skyla Patton
It's officially the best time of the year: 420 is just around the corner, and the cannabis community is bristling with excitement of all the thrills to come in the next few days. Whether you're throwing a party for friends, bringing a bag of goodies to an event or settling down for a solo-sesh this holiday, local dispensary Verde is the ultimate one-stop-shop for all of your cannabis needs.
Check out this guide for how to enjoy a perfect THC-infused 420, compliments of Verde and their stellar budtenders.
The Party Favors: To get the festivities started right away, stop by Verde's downtown location—1111 Willamette Street—when their doors open at 9am Wednesday to be first in line. The first 50 eager customers to walk through their door will receive a canvas goodie bag, packed full of exciting tidbits and Verde essentials to help celebrate. But don't stop there! All prepackaged items in the store will be 30% for the day, so stock up on the basics while you're at it to keep the party going all day long.
The Appetizer: Kicking things off with consumption-cult-classics, snag your favorite 50mg edibles for only $4. Tinctures, gummies, chocolates—oh my! Whether it's the smoothest Indica chewy candies or an absolute party-in-a-drop Sativa RSO, Verde has the ultimate roster of edibles and doses to get things going and delight your fellow consumers across the board.
The Entree: Is it really possible to celebrate 420 without a hearty roster of flavorful and unique flower to puff on? Verde wouldn't dream of it. With the new regulations allowing recreational shoppers to leave with not one but two beautiful ounces of flower, customers can score two ounces of sky-high quality The Sweet Life "A" buds for only $95, or one for $50. Celebrating on a tighter budget? Not a problem. Opt for $30 ounces of Verde "B" buds, just as tasty for the consumer while going easy on the wallet.
The Entertainment: Looking for somewhere to get out of the house and celebrate the holiday in the sunshine instead of at home? Drop by the Obie St. location for the same stellar deals and a bonus party just next door! Sweet Tooth Glass will be rocking all of West Eugene with live music, hourly raffles and mouth-watering munchies from Moo Ping Thai. There will even be a joint-rolling contest—with prizes!—for the connoisseurs who feel like bringing out their inner competitor. Come join the party and celebrate in style with friends and canna-family!
The Closer:  A party that goes down in the books is one that has parting gifts for its guests, and there is no more impressive gift than a Verde Cannon. These massive prerolls stretch nearly the length of your forearm and are packed full of 14 grams of fresh, green "B" buds, anxiously awaiting to be sparked up and enjoyed. Choose between classic and beloved strains such as Grease Monkey, Wonder Dawg or Lemon Kush. Cannons will be on sale during 420 for a mouth-watering price of only $30 (normally priced at $40), perfect to gift to a beloved friend—or to enjoy on your own once the party goes home.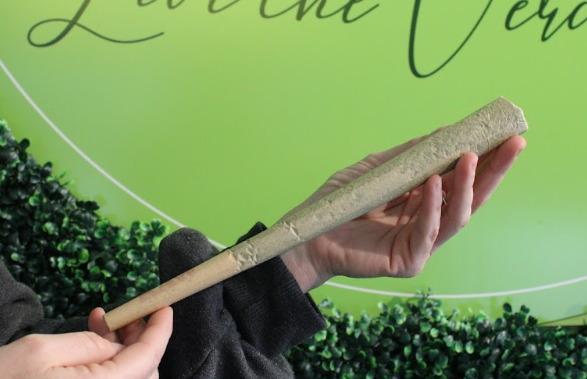 The Teaser: The excitement doesn't stop when the holiday ends for this storefront: cartridge lovers, listen up! Verde is making waves as they prepare to release their first-ever line of branded cartridges, hitting the shelves sooner rather than later as they add the perfect finishing touches. Filled with a full gram of high-quality cannabis oil, these carts are certain to rip smoothly and pack a punch all in one, so keep an eye out for their big debut.
Bonus Sale! Both Verde storefronts will be honoring "Flower Friday" pricing for 420, so all of your favorite strains are on sale.
1111 Willamette Street
Mon – Sat: 9am – 10pm
Sun: 10am – 8pm
1000 Obie Street
Mon, Tues, Thurs, Sat, Sun: 10am – 6pm
Wed & Fri: 10am – 8pm